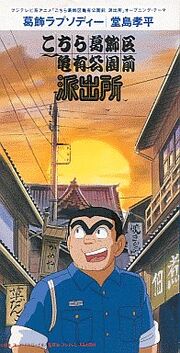 Katsushika Rhapsody
(葛飾ラプソディー) is the name of the third opening theme song used in the anime series of
Kochikame
, from
Episode 39
(4 May 1997) to
Episode 144
(4 July 1999), and the "Kochikame the FINAL" episode. The original single was released on May 1 1997, and was vocalized by Kouhei Doujima.
A second version was vocalized by Yum!Yum!ORANGE as the anime series' seventh opening theme.
Openinig Anmimation
Edit
The animation accompanying depicts Ryotsu chasing after catch a male thief who trips him and spilling his ice cream in the beginning, and the chase lasts throughout the course of the sequence. The song mid-way shows a continual panorama shot of a wide variety of secondary characters in the show. The chase ends with Ryotsu eventually arresting the man, forcing him to compensate his ice cream with the thief's expenses. Bucho's usual scolding at Ryotsu for his deplorable behaviour and the main characters rejoicing at the fireworks, with Ryotsu slowly escaping before Bucho catches him.
中川に浮かぶ 夕陽をめがけて
小石を蹴ったら 靴まで飛んで

ジョキングしていた 大工の頭領(かしら)に
ガキのまんまだと 笑われたのさ

どこかに元気を 落っことしても
葛飾亀有 アクビをひとつ
変わらない町並みが 妙にやさしいよ

中央広場で 子供の手を引く
太ったあの娘は 初恋の彼女(ひと)

ゴンパチ池で 渡したラブレター
今も持ってると からわれたよ

何にもいいこと なかったけど
葛飾水元 流れる雲と
ラプソディー口ずさみ 少し歩こうか

カラスが鳴くなら もう日が暮れるね
焼鳥ほうばり ビール飲もうか

トンガリ帽子の 取水塔から
帝釈天へと 夕陽が落ちる

明日もこうして 終わるんだね
葛飾柴又 倖せだって
なくして気がついた 馬鹿な俺だから

どこかに元気を 落っことしても
葛飾亀有 アクビをひとつ
変わらない町並みが 妙にやさしいよ

Nakagawa ni ukabu yuuhi wo megakete
koishi wo kettara kutsu made tonde
JOGGING shite ita daiku no kashira ni
gaki no manma dato wara ware tano sa

Doko kani genki wo okkotoshi te mo
katsushika kameari akubi wo hitotsu
kawaranai machi nami ga myou ni yasashii yo

Dhuuou kouen de kodomo no te wo hiku
Futotta ano ko wa hatsu koi no kanojo
gonpachi ike de watashita LOVE LETTER
ima mo motteru to kara kawa reta yo

Nannimo ii koto nakatta kedo
Katsushika minamoto nagareru kumo to
RHAPSODY kuchi zusami sukoshi arukou ka

Karasu ga naku kara mou hi ga kureru ne
Yakitori houbari BBER nomou ka
Dongari boushi no shusui tou kara
Taishakuten e to yuuhi ga ochiru

Ashita mo kou shite owarun dane
Katsushika shibamata shiawase datte
Nakushite kiga tsuita baka na ore dakara

Doko kani genki wo okkotoshi te mo
Katsushika kameari akubi wo hitotsu
kKawaranai machi nami ga myou ni yasashii yo