Kinji Totsuka


Personal Information
Japanese:
戸塚 金次
Romaji:
Totsuka Kinji
Gender:
Male
Hair Color:
Black (short)
Eye Color:
Brown
Status:
Alive
Professional Statistics
Main Occupation:
Patrol Officer
First Appearance
Manga Debut:
Chapter 1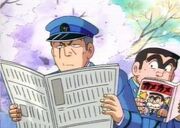 Kinji Totsuka (戸塚 金次, Totsuka Kinji) is a male character from the Japanese manga and anime series Kochikame by Osamu Akimoto. He was a former Patrol Officer from the Kouen-mae Police Box.
Appearance
Totsuka bears slight resemblance to that of a yakuza member, as he possesses a scar which runs down a side of his face, a buzzcut hairstyle, and a tattoo on his back. His uniform consists of a blue coat, white undershirt, blue pants and black shoes. He is seen with shortened sleeves, no tie and flip-flops on days set in the summer period.
Personality
Relationships
Police Box colleagues
It appeared that Totsuka and Ryotsu had an amicable friendship during the early chapters of Kochikame. Following Totsuka's absence from the Police Box, however, it was shown in a character-comeback chapter from Volume 155 that the two acted coldly with one another and were not even able to begin a conversation together.
Trivia
Ad blocker interference detected!
Wikia is a free-to-use site that makes money from advertising. We have a modified experience for viewers using ad blockers

Wikia is not accessible if you've made further modifications. Remove the custom ad blocker rule(s) and the page will load as expected.