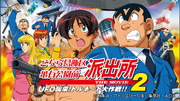 KochiKame: The Movie 2: UFO Attack! The Great Tornado Strategy!! (こちら葛飾区亀有公園前派出所 THE MOVIE2 UFO襲来! トルネード大作戦!!) is a Japanese animated theatrical movie based off of the series KochiKame by Osamu Akimoto, released on December 20, 2003 and produced by Studio Gallop.
Ad blocker interference detected!
Wikia is a free-to-use site that makes money from advertising. We have a modified experience for viewers using ad blockers

Wikia is not accessible if you've made further modifications. Remove the custom ad blocker rule(s) and the page will load as expected.