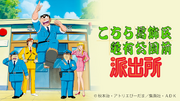 The anime version of the Japanese manga series KochiKame by Osamu Akimoto aired on FujiTV in Japan from 16 June 1996 to 19 December 2004, spanning a total of 373 episodes. The official English title is KochiKame: Tokyo Beat Cops.
Two movies were also released, KochiKame: The Movie and KochiKame: The Movie 2: UFO Attack! The Great Tornado Strategy!!.
Background
Edit
The vast majority of episodes in the anime series involve plots and stories derived from chapters in the manga series itself, with the exception of some episodes being produced as anime-original storylines. In comparison to the manga, the more violent and sexually suggestive scenes are either ignored or toned down to also suit a younger television audience.
The anime series aired weekly every Sunday on FujiTV at 7pm, following Kiteretsu Hyakka and preceding One Piece. The show lasts for approximately 22 minutes without advertising, with the exception of some special episodes. episodes in the series do not air by season, but rather by year beginning in January all the way through to December on the weekly basis.
Episode list
Edit
Main article: List of KochiKame anime episodes
List of KochiKame openings
Edit
The anime series underwent many changes in theme songs used for the opening credits, inclusive of the following:
List of KochiKame endings
Edit
In addition to the theme songs, the ending songs for KochiKame also changed numerous times to follow suit:
Original Author: Osamu Akimoto
Planning: Kenji Shimizu -> Koji Kaneta -> Taichirou Fujiyama -> Momoko Konaka, Toshitaka Nakano -> Atsutoshi Hamano -> Yutaka Sugiyama -> Youko Matsushita
Director: Tetsuo Yasumi -> Shin Misawa -> Shinji Takamatsu -> Yoshihiro Takamoto -> Akira Shigino (TV specials)
Character design, Drawing Supervision: Tsukasa Nannai, Yamauchi -> Masahiro Kitazaki
Art Director: Satoshi Shibata
Director of Photography: 
Music: Ryou Yonemitsu, Toshihiko Sahashi
Sound Direction: Fusanobu Fujiyama, Hajime Takakuwa
Producer: Koji Kaneta, Akio Wakana, Kouji Beppu ->
Animation Production: Gallop
Development: FujiTV, ASATSU -> ASATSU-DK -> Asatsuu Deii Kei -> ADK
Episodes which aired in 1996 had no eyecatches between scenes. Instead, at the end of the anime episode, there were Today's Damage (

本日の被害

,

Honjitsu no higai

) segments which highlighted the total number of damages particular characters made during the episode, for example the number of cars someone destroyed or days left drunk/hung over.
Rieko Miura, voice actress of Komachi, is a popular Japanese singer and actress who has also done voice work in other anime such as R.O.D the TV.
The anime switched from CEL animation to Digital Pen & Ink animation starting with episode 156. However, episodes 158, 159, 160, and 161 were still CEL animated. The show made a complete switch from episode 162 onwards.
The theme song used for the longest time was 'Damatte Ore ni Tsuite Koi', which was used over two years and eight months. However, both the Doujima and Yum!Yum! versions of 'Katsushika Rhapsody' combined span a total of three years and four months. The theme song used for the least amount of time was 'Kochira Kameza no Onna', which only lasted for nine episodes.