Nana Otohime


Personal Information
Japanese:
乙姫 菜々
Romaji:
Otohime Nana
Aliases:
Nana-chan
Gender:
Female
Blood Type:
A
Height:
161
Weight:
35
Hair Color:
Blue-green
Eye Color:
Blue
Professional Statistics
Main Occupation:
Motorbike Police Officer
First Appearance
Manga Debut:
Volume 94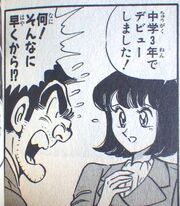 Nana Otohime (乙姫 菜々, Otohime Nana) is a female character from the Japanese manga and anime series Kochikame by Osamu Akimoto. She is a motorbike police officer within the Transport Division of the Katsushika Police HQ. She also has a side job as popular shōjo manga author Miko Aino (愛野神女 Aino Miko).
Appearance
Unlike the majority of other characters in Kochikame who possess natural hair colours, Nana has a shade of blue-green/aquamarine coloured hair. It is kept as a short bob with bangs consisting of multiple locks of hair at equal length which cover her (still-visible) eyebrows. She also has blue eyes in the manga series, but what are possibly olive-green or hazel-coloured eyes in the anime.
Personality
Nana is feminine and compassionate in character, and to an extent quite sensitive. But she is able to better take care of her emotions, compared to her boyfriend Honda, who seems to become easily distressed emotionally.
Other than biking, she shows a great love for drawing anime, which is evident from the fact that she is a manga author who works under her own pen name.
Relationships
Police Box Colleagues
Katsushika Police HQ
Trivia
Ad blocker interference detected!
Wikia is a free-to-use site that makes money from advertising. We have a modified experience for viewers using ad blockers

Wikia is not accessible if you've made further modifications. Remove the custom ad blocker rule(s) and the page will load as expected.