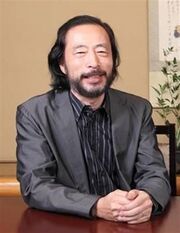 Osamu Akimoto (秋本 治, Akimoto Osamu) born 11 December 1952, is a Japanese manga artist responsible for illustrating the popular manga series Kochikame.
Osamu was born and raised in Katsushika ward of Tokyo, Japan. This same location is utilised as the base location of Kochikame for the majority of its anime episodes and manga chapters.
Works
Kochira Katsushika-ku Kameari Kouen Mae Hashutsujo, (1976 - 2016, serialised in Weekly Shonen Jump)
Mr. Clice (1989 - 2007, serialised in Monthly Shonen Jump)
Time... (serialised in Jump Square)
Vocalo (2014, published in Margaret)
Arii yo Jū wo Ute! (2015, published in Grand Jump)
Assistants
Ad blocker interference detected!
Wikia is a free-to-use site that makes money from advertising. We have a modified experience for viewers using ad blockers

Wikia is not accessible if you've made further modifications. Remove the custom ad blocker rule(s) and the page will load as expected.