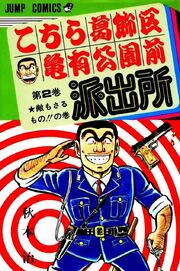 Volume 2 of the Japanese manga series Kochikame by Osamu Akimoto was released on 30 September 1977 through Shueisha Comics.
Chapter list
Chapter no.
Chapter Title
Issue serialised
8

敵もさるもの!!の巻

Teki mo Saru Mono!! no Maki

'The Curious Enemies'

50*
9

にくいヤツ!?の巻

Nikui Yatsu!? no Maki

'An Abo-Meat-Able Person?!'

51
10

12月24日雪...の巻

Juunigatsu Nijyuu-yon Nichi Yuki... no Maki

'Snow on December 24'

52
11

タバコやの洋子ちゃん...の巻

Tabako-ya no Youko-chan...

'Youko-chan of the Tobacco Shop'

1**
12

ナゾの男...の巻

Nazo no Otoko... no Maki

'A Mystery Man...'

2
13

交剣知愛...の巻

Kouken Chiai... no Maki

'Kouken Chiai...'

3
14

撃ちぞめの巻

Uchizome no Maki

'A Shooting on New Years'

4
15

伊勢神宮参拝の巻

Ise Jinguu Sanpai no Maki

'Worship at Ise Shrine'

5
through Weekly Shonen Jump, 1976
through Weekly Shonen Jump, 1977
External links
Ad blocker interference detected!
Wikia is a free-to-use site that makes money from advertising. We have a modified experience for viewers using ad blockers

Wikia is not accessible if you've made further modifications. Remove the custom ad blocker rule(s) and the page will load as expected.